Each Vendor space is $150.00
This is a 10 x 10 space with a table and two chairs.
You will be on hard concrete floor.
Vendors cannot compete with or sell any food or drink items prepared at the venue (hotdog and cola drinks)
Prepackaged items (like Jerky) are okay.
To apply as a vendor, please submit the online application below. [Thanks for NOT registering via the Show's online registration where the halter show, fleece show, etc. is. ]

Vendor Registration Deadline is November 1, 2022!
VENDOR SPONSOR – $500
1 Free Vendor Booth
Preferred Booth location
Vendor advertisement flyer/promo in show bag (Sponsor provides)
Special recognition/announcements throughout the show
Listing as a VENDOR SPONSOR on the A-OK Website with a link to your website
Your Company logo on the sidebar of the A-OK Registration Website (Sponsor provides logo)
Please contact the Vendor Coordinator for details.
---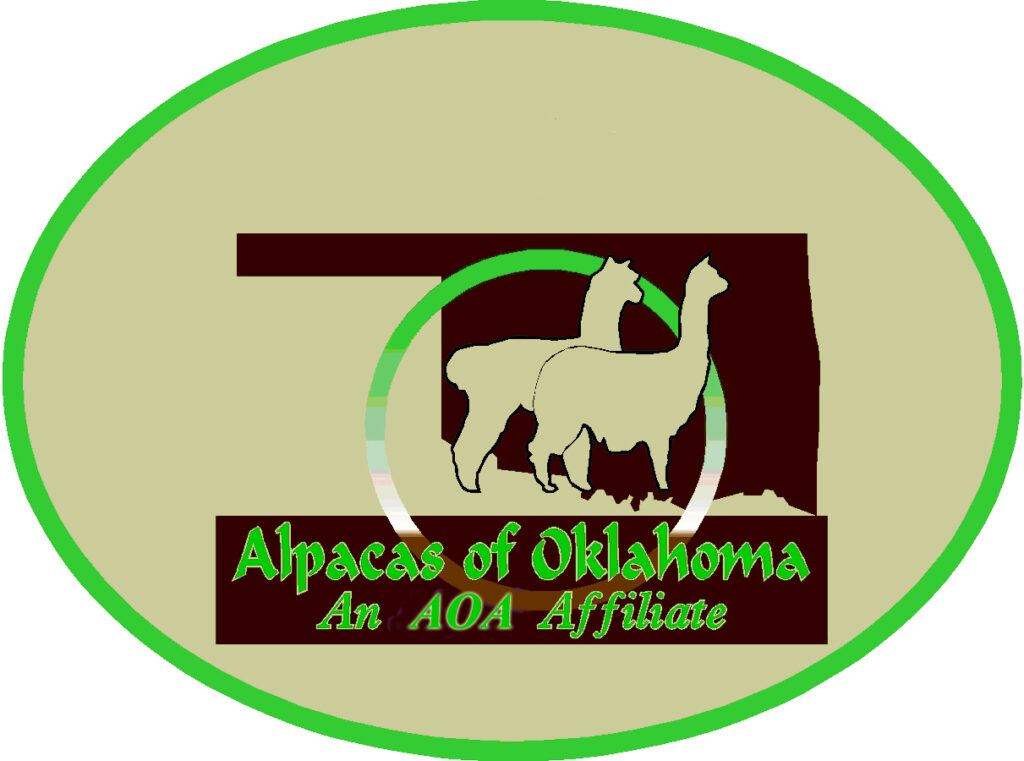 2022 A-OK Shows Vendor & Application Agreement
To: Alpacas of Oklahoma
(A-OK)/Show Committee:
I hereby apply as a vendor for the A-OK Alpaca Blast-Off & Rose Rock Re-Entry event (hereinafter, referred to as A-OK Shows).
Event Date: Saturday-Sunday, November 12-13, 2022.
RULES OF THE MARKET
1. A-OK Shows is a livestock show; therefore, sustainable, Made-In-Oklahoma (MIO), farm products and/or handmade crafts and goods are our preferred vendors. Since those items are typically exclusive to your own farm or personal production, exclusivity will not be granted. Direct marketing vendors will not be considered. Booths are $150.00. Number of spaces is limited.
2. All vendors are responsible for liability insurance and compliance with any and all requirements of the venue and of State of Oklahoma, including but not limited to, OTC sales tax requirements and health department requirements for food vendors (appropriate licenses/permits must be displayed or readily available, if applicable). Please be aware that the OTC recently changed their sales tax filing requirements for Special Events such as this event. You will be required to provide your Oklahoma Sales Tax Permit number (if you have one) and your Federal Tax ID number (Employer Identification Number or Social Security Number). You may provide these numbers in your written or online vendor application, or you may contact our Vendor Coordinator, Terri Bates, with your numbers at 405-412-4845. All information provided will be kept in strict confidence and only provided to the OTC as required. All vendors, whether you have a Sales Tax Permit or not, are now required by OTC to file their own event sales and pay the taxes collected. OTC will send correspondence with instructions for the filing process to each vendor just a few days before the event date.
3. All products will be displayed in a clean and safe manner. Please, NO dangerous or toxic items. Decisions by the Event Coordinator or Vendor Coordinator are final.
4. All vendors shall exhibit professional manners, always showing respect for the event hosts, other vendors, customers and Property occupants and neighbors.
5. One table and 2 chairs will be provided per booth. Canopies will not be provided, but vendors may use their own within their set area. Please respect space boundaries and line of sight concerns for your neighboring vendors.
6. Spaces and booth location shall be negotiated and assigned by A-OK.
7. Do not unlock/open any stall gates/doors or enter any blocked areas without permission from Event Coordinator or venue supervisors.
8. Applicable fees shall be paid no later than October 30, 2022. Additional fees may apply for special needs during event, i.e., electricity, shared space. Booth space can only be shared if approved in advance by Event Coordinator (additional fees will be negotiated).
9. Any Vendor who does not comply with the terms of the Vendor Agreement/Rules, shows gross negligence, or whose conduct is deemed disorderly shall be asked to vacate the Property without a refund of the rental fee paid.
10. All Vendors must remain set up and stay until 4:00 pm Sunday, November 13th or until showring judging has ended, whichever comes first, to assure an orderly exit from the property. Any vendor who does not adhere to this rule may not be invited back to future events.
11. Vendors are responsible for leaving a clean area at closing. Trash receptacles will be available.
12. This vendor agreement is made by and between Alpacas of Oklahoma/A-OK Show Committee (authorized persons are the Event Coordinator or Vendor Coordinator) and the Online Application Vendor's Name or Company Name,
(herein referred to as "Vendor") of the Online Application's Vendor's Address.
---
Whereas, Alpacas of Oklahoma/A-OK Show Committee is the Organizer of the A-OK Alpaca Shows event held at the selected venue.
Whereas, Vendor is engaged in the business of selling the Online Application's List of Products You Sell.
NOW, THEREFORE, it is agreed that:
PURPOSE. A-OK agrees to provide Vendor space to conduct business at the A-OK Alpaca Shows event. Vendor is limited to the space agreed upon prior to the event. This agreement will begin on the date of this contract and will remain in effect until the time the event ends on the final date of the event. Vendor agrees to participate according to the reservation guidelines and abide by the Vendor rules set forth in this application and agreement.
DATE AND HOURS OF OPERATION. The A-OK Alpaca Shows event shall be open on Saturday, November 12th from 8:00 am until 5:00 pm and on Sunday, November 13th from 8:00 am until showring judging ends (estimated 4:00 pm). Vendor will be allowed to set up at the event on Friday, November 11th, any time after 10:00 am and be completed by 6:30 pm. Vendor shall remove all belongings, including but not limited to, canopies/tents, tables, products, etc., no earlier than 4:00 pm on Sunday, November 13th and shall vacate the property no later than 6:00 pm that day. Exceptions can be granted, if necessary, to accommodate special set-up and/or take-down needs if arrangements are made in advance.
PAYMENT. Vendor is provided with space on the Property in exchange for a rental fee of $150 per booth or $500 for Vendor Sponsorship (or more if multiple booths are selected) to be paid immediately after the online submission of this agreement and BEFORE setting up at the event. Space locations will be first come-first served and will be negotiated by A-OK and the Vendor. The rental price is subject to change with 30 days' notice from A-OK. Accepted payment methods for rent are cash, check made out to "Alpacas of Oklahoma" or major credit card or debit card. There will be a returned check fee of $25 payable in cash or major credit card.
SALES TAX. Vendor agrees to provide all necessary information required by the Oklahoma Tax Commission for event filing requirements of the event Coordinator. Vendor also agrees to collect and pay the appropriate sales tax (Chickasha, OK 9.000%), if any, as required by law and agrees that A-OK has informed the Vendor of their responsibility to do so. OTC sales tax vendor forms and instructions will be provided by the OTC via mail and email.
REFUNDS. If Vendor reserves space under this agreement and fails to show up, the rental fee is non-refundable—no exceptions.
APPEARANCE. Vendor is responsible for cleaning and maintaining the space provided in an organized and neat manner, removing all trash around your space during the event. Failure to do so will result in a $20.00 clean-up charge for Vendors who do not comply.
PARKING/FACILITIES. Adequate parking is provided at the venue. There are restrooms located inside the venue.
ADVERTISING. A-OK agrees to provide advertising regarding information about the event which may include newspaper ads, flyers, social media, mailings, etc. Vendor agrees that A-OK has the right to determine the amount of advertising and to end it at their discretion. Also, by signing this Agreement, Vendor is giving permission to allow photos of their space and/or products to be used for advertising purposes.
I/WE, by my application submitted below, agree to abide by all market rules and terms of this Agreement.
NOTE: Your payment by check made payable to Alpacas of Oklahoma must be mailed to the A-OK Treasurer for your application to be processed:
Betsy Morehead
Scissor-Tail Yarn & Fiber Mill
119 N Crawford Ave.
Norman OK 73069
You will receive an acknowledgement of payment when your check is received.
Alternatively, you may log in to your PayPal account and use the "Send Money" option to the A-OK Treasurer's email address:
[email protected]
(Venmo cannot be used for businesses. We are not currently set up to use Zelle.)