Check-In at the A-OK Shows
Checking in at the A-OK Shows is designed to be exhibitor-friendly and quick. It requires a little participation on your part to make everything run smoothly.  Please familiarize yourself with these instructions and bring a printed copy from your desktop computer with you.
Check-in Friday 10:00AM to 8:00PM
NOTE: If you realize that you will be late checking in on Friday night, please call/text Judy Schroeder at (540) 797-1985 to make arrangements for Vet Check and Color Check.
Have the following paperwork with you:
*PRINTED PAPER* CVI—Certificate of Veterinary Inspection (Vet Health Papers) >>>with a copy for the show.<<< (You will retain the original.)

PLEASE—print out and bring this form if you receive it from your vet electronically. 

We MUST have a printed copy for our files

!
These should include Microchip numbers or Ear Tag ID and BVDV test results including the Type of Testing – PCR or VI. 
This test MUST be a PCR type if done after 01/01/2010. 
If done prior to 01/01/2010, VI (Virus Isolation) is acceptable. 
Oklahoma does not require TB/Brucellosis testing for this show, however, your own state may require these tests for re-entry.

The date of the CVI should be within 30 days of the end of the show.

Copies of your AOA Registration Certificates – just in case
Copy of your Exhibitor Disclosure Form – also just in case
Permission To Show form(s) – if applicable
Check-In Procedure:
Your destination is Grady County Fairgrounds, 500 E Choctaw Ave, Chickasha, OK 73018
In order to facilitate correct traffic flow,

please enter the Grady County Fairgrounds & Event Center at the northeast corner

on US 277/US 62/OK Hwy 9 and follow the signs to Alpaca Check-In. (See map below)
Once onto the Fairgrounds…
Go past the Event Center (a few prior turns if taking either entrance)

At the back/south side of the Event Center turn right to travel toward the back of the Indoor Arena which is the next building on your right.

Stop at the covered awning (or in line with those before you) between the Indoor Area on your right and the Junior Arena on your left. (See map below.)

NOTE: Please do not block the driveway between the Event Center and the Indoor Arena as there may be traffic needing to flow through after they have unloaded.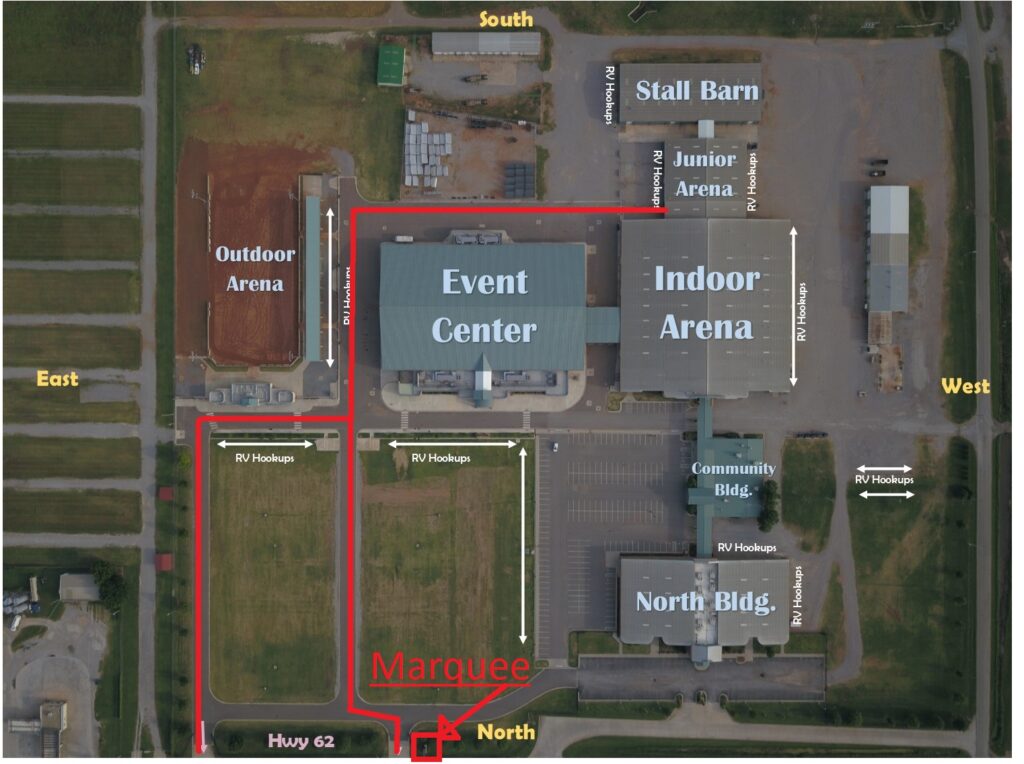 A representative of your ranch should go into the large Arena door to the Check-In Area.  

Please have your paperwork with you!  
Identify your ranch.  
Alpacas will be Vet-checked on the trailer.
Once Vet-checked, you will be given a Check-In Sheet.  This is very important.  You cannot get into the Arena without it.  
A Post-it note with your Ranch and driver's cell phone should be placed inside your front window.  Please do not remove this.


A volunteer will direct you into the unloading areas on the west or east side of the Indoor Arena. 

Pull up to one of the large doors closest to your stalls, and unload.   
There will be a large stall map inside the arena at the back of the building near the vet check station.


Volunteers with 4-wheel Gators will help you unload if needed. Please unload all your gear and your animals as quickly as possible. 

Once unloaded, pull your trailer to the trailer parking area on the southwest corner of the facility.  
PLEASE—DO NOT SET UP YOUR STALLS UNTIL YOU HAVE REMOVED YOUR TRAILER FROM THE UNLOADING DOORWAYS.  There simply is not enough room to leave unloaded trailers at the doorways.


Stalling at the Blastoff is on concrete. 

Each stall will be provided with a bag of pelletized bedding. 
Stall mats are highly recommended to be placed on top of the bedding. 
Please bring your own mats. 
Please be sure to bring appropriate Gate Closures. A-OK does NOT provide these!


As soon as you can, take your animals and the check-in sheet to Compliance Checking in the show ring.

Once you have been Compliance-checked, exchange your pink sheet for your show numbers and exhibitor packet with the volunteer who is set up at Compliance Checking.  

You will also be asked to settle up any fees owed at this time.  
This must be done before you can obtain your Show numbers and packet. 
Numbers needing color/class change will be retained and returned to you once the new class is assigned.  Listen for announcements!


Biosecurity—You may wish to consider hanging a barrier such as a tarp or drape to minimize contact. 
Thanks for being nice to the volunteers. Remember, they are volunteers and we really need their help! Enjoy the show and we welcome any suggestions for making things better.
Questions about this website may be addressed to our A-OK Webmaster:
Email Charles Ashley