Aug 26th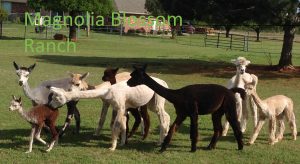 Just wanted to provide you more information about our 4-H show demo that we will be doing that the livestock show during the McClain County Fair in Purcell on Saturday, August 26th. Since it is a 4-H event, they would prefer that "kids" show the alpacas in the demo, not adults. My niece & 2 nephews, Eva, Andrew & Porter Beaty, want to do it & I'm waiting to hear back from Amy Pomerantz on her availability & hoping that her little brother, Zack will want to show Amy's little female Suri (Judy). Zack is already accustomed to working with Judy, but I will have the other kids come here 2 or 3 times a week up until the 26th to work with my 3 huacaya alpacas. They are all very good on a lead, so its just getting the pacas & kids to work together. We had our first session yesterday and they did fairly well. Amy will act as Ring Steward & be in the ring to help in case they have an unruly alpaca. Amy will also set up 3 or 4 obstacles (something simple) so that Zack & Judy could demo the obstacle course right after the judging demo. If Amy and Zack cannot attend, we will just go with mock judging of the 3 huacayas & Al can act as Ring Steward; then a display of the adult alpaca in the ring afterwards.
Date: Saturday, August 26
Where: McClain County Fair, County Expo Center http://www.mcclaincountyexpo.com/
1715 Hardcastle Blvd, Purcell, OK 73080
Map: https://www.google.com/maps/place/Mc+Clain+County+Expo+Center/@34.9925237,-97.3727274,15z/data=!4m2!3m1!1s0x0:0xb1362b20ffa170ed?sa=X&ved=0ahUKEwi9uN6zgb7VAhXirFQKHSpABfUQ_BIIczAK
Transport: Kerry, Terri (& Al/Gail) will bring our huacayas and pick up Amy's Suri about 10:30am-ish, allowing for driving & setup time by noon. Amy/Zack can ride with us, or come separately in their own vehicle (not necessary for Amy & Zack to be there til about 2pm, but can come any time they want). My brother & sister-in-law will probably bring the 3 other kids so that they can watch their kids in the demo, but if not, we will pick them up – they don't live too far from Amy. Janice & John can come around 2pm-ish if they prefer not to be there as long – their choice). We will pack up and leave immediately after the demos (don't expect the demos to last longer than 30 min.)
Alpaca Pen: Petting/viewing/AOK info table 12pm-3pm (Gail, Al, Terri & Kerry)-Gail, could you bring a few samples of handmade fiber items? I'll bring brochures, etc.
We will also bring an adult female just to show full size and temperament.
Demos: 3:00pm
Janice – Judge (going through the motions as would a judge in an actual show)
John1 – Announcer – make opening comments explaining who AOK & AOA is, and some background about alpacas & the industry.
Then, begin the judging demo & explain to the crowd what the judge is doing as Janice goes through the motions.
Immediately after judging demo, comments on obstacle course demo & adult huacaya on lead; comments about ease of handling & challenges.
Amy or Al – Ring Steward (Amy can set up the obstacles while John is making the opening comments)
Alpaca Handlers/Show Alpacas:
Andrew Beaty (age 14)/Obsidian's Lady Marideth (16mo old yearling/Medium Rose Gray/Huacaya/female)
Eva Beaty (age 11)/Retta's Crimson Starre (22mo yearling/Dark Brown/Huacaya/female)
Porter Beaty (age 9)/Courtney's Cocoa Chanel (10mo juvenile/Medium Rose Gray-Med Brown (indef gray)/Huacaya/female)
Zack Pomerantz (age 13)/Judy (Age?/Color?/Suri/female)
Obstacle course: Zack/Judy (with Amy's assistance)
Adult Alpaca in ring: Al, Kerry, or Terri?/LNA Retta (Age 8yrs/Med Rose Gray/Huacaya/female)
To be paraded out in ring during the obstacle course so that the crowd can also see an adult on lead.
Should be on our way home by 3:45-4:00pm after packing up.
Please reply with any comments, suggestions or questions. Feel free to invite other AOK members. Thanks!
Terri Bates
Terri Bates, Owner
Category Key
Alpaca Related
Alpaca shows
AOK BlastOff Show
AOK Board Meeting
AOK General Meeting
AOK Show Committee Meeting
General